If you've ever had the opportunity to go camping (and we hope you have), you understand how peaceful and relaxing the experience can be. From finding a quiet place to unwind, spending quality time with family and pets, stargazing, and wandering in nature, it's always a trip to remember. And as a matter of fact, Maryland has a plethora of beautiful campsites for all of your summer camping adventures. Whether you choose to bring an RV or you're committed to pitching a tent and sleeping outdoors, there is a Maryland park that is perfect for you. So, before you head out to live off the grid for a few days, make sure you've picked the right location and thrown in the essentials.
1. Bug Spray & Sunscreen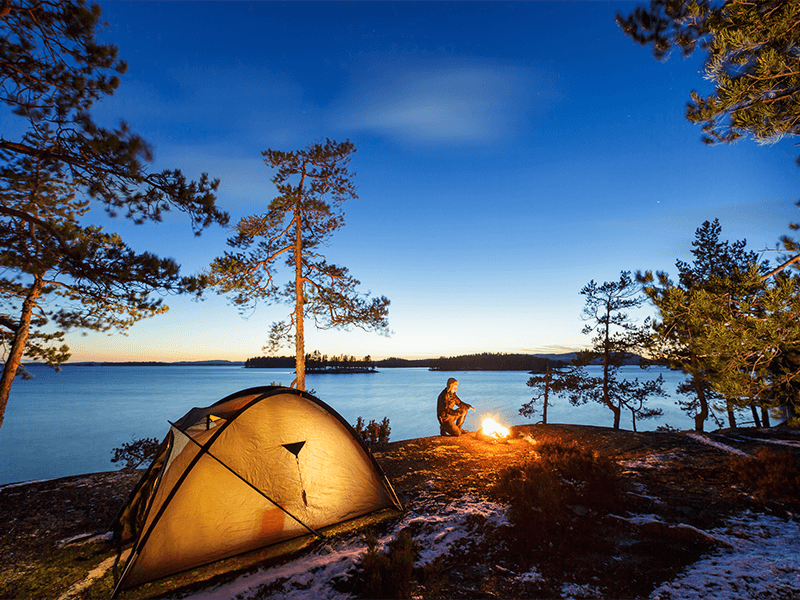 Itchy mosquito bites and painful sunburns can result in a miserable camping experience. Remember to pack enough bug spray and sunscreen for everyone and avoid the trouble. Buh bye bugs and burns.
2. Outdoor Furniture
Collapsible chairs and a table are must-haves for gathering around the campfire, eating meals, and relaxing at the end of the day with friends and family. You can find quality outdoor furniture in a range of prices at any large retail store. Think Costco or Walmart for the best deals.
3. Hiking Boots
You're probably going to be doing a lot of walking or hiking on the trip, depending on which campsite you choose. So, don't forget to pack a comfortable pair of tennis shoes or hiking boots for all-day comfort. You want bliss, not a blister, right? And, with a pair of good shoes, nothing will hold you back from exploring miles of woods and trails.
4. Card Games
Camping allows you the freedom to separate yourself from the electronics that take over our lives. Pass the time and enjoy the simpler things in life by breaking out the games. If you don't have the room to pack larger yard games, card games are an equally fun alternative. Bring along Cards Against Humanity, an amusing card game that's even better if you've had a few drinks.
5. S'mores
Hershey's chocolate + Marshmallows + Graham crackers = Yummm. S'mores are a campfire tradition that everyone loves, no matter how old you get. You might want to bring some extra marshmallows, as you'll probably burn at least one or two.
Notable Maryland Camping Parks
1. Tuckahoe State Park
Tuckahoe State Park is located along the quiet stream of Tuckahoe Creek, on the Eastern Shore in Queen Anne, Maryland. The park is comprised of a 60-acre lake that offers boating and fishing. The park also provides 20 miles of scenic hiking, biking and equestrian trails, flat water canoeing, hunting, and picnicking.
2. Assateague State Park
Located in Berlin, Maryland, Assateague State Park is Maryland's only oceanfront park. Its two miles of ocean beaches offer swimming, surfing, and fishing. On the bayside, you can canoe and kayak, or watch the deer, waterfowl and feral horses. There are 350 campsites available, and Ocean City is close by if you care to explore.
3. Yogi Bear's Jellystone Park
Yogi Bear's Jellystone Park is a family-focused attraction in Hagerstown, Maryland. It is located in the historically rich area of Washington County near The Crossroads of the Civil War. The park offers arrangements for RV's, cabins, and tents. In addition, each park has dozens of attractions including a pool, biking and hiking trails, mini golf, an obstacle course, outdoor movie theater, and waterslides.
Cape Ace Hardware has a wide range of products to help you prepare for your summer camping trip. Yet another reason why your Cape Ace is the Place!