There are over 220 bird species that call Maryland home, and hundreds more travel through the region without nesting. But, with so many birds flying around, why aren't more stopping by your backyard bird bath or feeder? After all, you invested time and money into creating a bird-watching oasis, and you want them to use it. Here are a few ways to welcome birds to your yard, as well as some tips for bird feeding once they arrive.
Inviting Birds to Your Yard
It all starts with gathering the essential birding supplies. For birds to feel comfortable coming to your yard, it has to feel like their home. To accomplish this, landscape your yard with native flowers, trees, shrubs, and plants, which are all natural food sources for Maryland birds. Be sure to save room in your design to place your birdbath or feeder.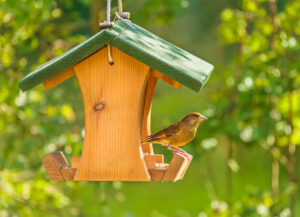 If you already have a bird feeder set up but are not attracting birds, there could be several reasons why. For one, you might have purchased the incorrect bird food or seed for the species that inhabit your area. For instance, mockingbirds have a very different diet than hummingbirds, and neither will come to your feeder if they don't like what's inside of it. To make sure you have the right bird food for the right birds, consult the archive of native birds from Maryland's Department of Natural Resources. Or, check out this helpful bird feeding guide from Bird Watcher's Digest.
Another reason you might not be attracting birds is because of your feeder. Do you have a hopper, tube, platform or block feeder? These are just a few of the many variations of bird feeders, including kinds for specific birds. It's something to consider when you're putting together a bird feeding spot in your backyard.
Fostering a Safe Environment
Once you've figured out the feeding logistics, you need to ensure your environment is safe for birds to thrive in. It goes without saying that any animals that feel unsafe in your backyard – especially birds – will keep their distance. Luckily, there are a number of ways to foster a safe space for your new flying friends, including:
Cleaning bird feeding areas regularly to keep unwanted vermin at bay

Avoiding pesticides, herbicides or other harmful toxins in feeding or nesting areas

Adding decorations to your windows and glass doors so birds know they can't fly there

Keeping baths and feeders at least three feet from windows to avoid collisions

Adding a birdhouse to provide shelter and more protection
Keeping Natural Predators Out
You also need to take measures to keep birds' natural predators out of your yard. Snakes, squirrels and certain insects can all disrupt your bird feeding and nesting areas, and there are a number of natural repellents that can help. However, cats are the biggest source of bird feeder fatalities, so be sure to:
Keep your cats indoors whenever possible

Add border fencing to feeding and nesting areas

Hang your feeder at least six feet above the ground

Talk to your neighbors about keeping their cats out of your yard
Keep Them Coming Back
Once you take these necessary measures, you'll be able to attract some of the most beautiful birds found in the Chesapeake Region to your very own yard. As you watch more and more birds enjoy your setup, Cape Ace Hardware can help you keep them satisfied with a complete lineup of bird food, seed, suet and more. To learn more and get started, visit our store at 1337 Cape St. Claire Road in Annapolis or contact us today.